Every year for Valentine's Day, Adrian and I put together little gifts for some of my girlfriends. On Valentine's Day, we make a tour of the city and drop off the gifts at my friends' houses. I have loved doing this over the year and have enjoyed sharing my love of Valentine's Day with some of my favorite girls.
I couldn't share the contents of this year's boxes earlier because some of my girlfriends read the blog and I wanted them to be surprised. This year, I tried to put what I think of Valentine's Day into a box. I wanted it to be bright, festive, and celebrating love and friendship. I wanted my girlfriends to open their boxes and feel happy and excited.
So here's what I filled the boxes with (mouseover for numbers):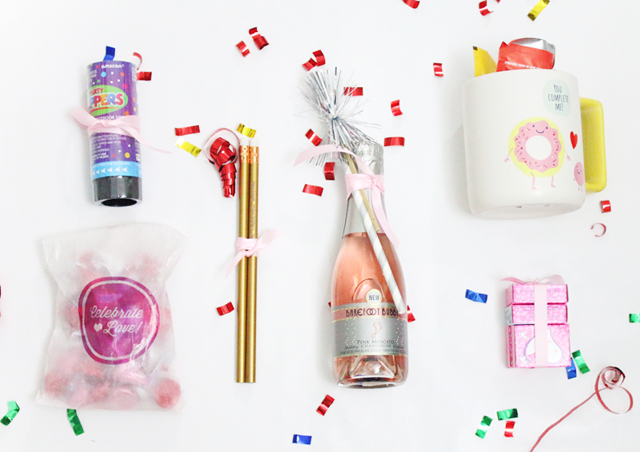 1 Confetti poppers // 2 Custom DIY Printed Bags filled with candies (tutorial here) // 3 Custom Pencils that read "You are fabulous, Darling!" // 4 Champagne with straw and festive stirrer // 5 Coffee Mug (from Target) with Abuelita Hot Chocolate mix // 6 Nerds candy
I am so happy with how they turned out. When we delivered them, my friends were so excited! We brought them each a pink heart balloon along with their boxes and I just loved seeing them open the box and take a look inside.

To my girlfriends, thanks ladies! You are the best and you deserve more, but I hope these little boxes filled part of your Valentine's Day with love!